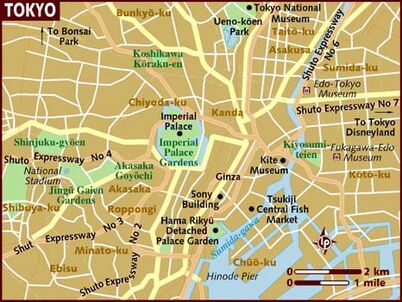 Introduction
Edit
Tokyo is the most populous city and the capital of Japan, and its Metropolitan Area houses over 25% of Japan's total population. It is located on Japan's most expansive island, Honshu. Tokyo is very close to Yokohama, which is south to it, and on the map of Japan, there is no space between them.
Tokyo National Museum
Edit
The Tokyo National Musuem is located on the Northern part of Tokyo, in the Ueno-koen Park, and north of the Taito-Ku Asakusa Neighborhood.
Kite Museum
Edit
The Kite Museum is located on the eastern part of Tokyo. It's a few kilometers away from the Imperial Palace. It is north of the Tsukiji Central Fish Market, and west to Hinode Pier, and east to a road that passes by the Sony Building and the Hama Rikyu Detcahed Palace Garden.
Tsukiji Central Fish Market
Edit
Tsukiji Central Fish Market is a fish market located near the Hinode Pier, probably for fishing in the river.
Imperial Palace
Edit
The Imperial Palace is the centrel building in the city of Tokyo. It is surrounded with gardens known as "Imperial Palace Gardens". The Imperial Palace has many expressways and roads leading to it. Surrounding the gardens of the Imperial Palace, is a little bit of water, bordering the water are the expressways and roads.
North of the Imperial Palace's gardens, lie two neiborhoods, Chiyoda-Ku, and Kanda.
Famous People
Edit
Masashi Kishimoto
Edit
Masashi Kishimoto is a mangaka, and has created the manga of Naruto.
Childhood
Edit
Kishimoto loved drawings since he was a kid. He drew everyday, he even drew when he was playing hide-and-seek and hiding. He was a very big fan of "Dragon Ball", an anime-manga series. He also liked Gundam, and was really interested in how people could draw that well. Kishimoto wanted a game that was known as "Dragon Quest", but he was the only one in his class that didn't have a nindo, and when his father heard the phrase "Vidoe Game", he would tell Kishimoto to go and study.
Later, Kishimoto was working on a manga about a shadow ninja boy, and after he had completed the first 27 chapters, he showed it to his father and brother, and they didn't like it.
As a manga-ka
Edit
When Kishimoto was older, he made another manga about a Shadow Ninja Boy whom he names Naruto. In Japan, Naruto has become really popular, and a lot of people from other contries are enjoying it too. Currently, Naruto is ranked #1 online, and has gotten more than 300,000 views.
Community content is available under
CC-BY-SA
unless otherwise noted.